Aluminium NARROW bottom track cover sold by the metre
A fascia strip to cover the central strip of the Athabasca and Ontario narrow aluminium bottom track (shown in red), therefore, concealing fixing screws etc.
Price per metre - please calculate what you require and round up to the nearest metre.
Will be supplied in Silver but may be available in other track colours such as Champagne, Gold and Olive. Please contact us if you require a colour other than Silver.
Fascia strip: Ourter width: 22.2mm H: 4mm Inner width: 19.2mm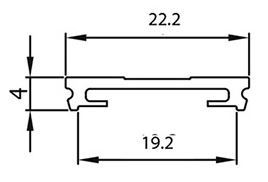 £5.50

Adding...