Recessed Single Bottom Track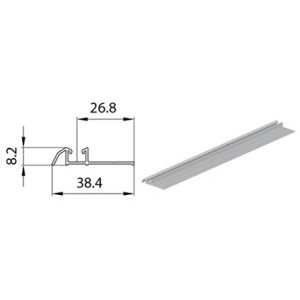 A track made from anodized aluminium alloy, often used recessed in to wooden or tiled floors. Available in Champagne, Gold, Olive and Silver (see swatches below). When purchasing the Aluminium Recessed Single Bottom Track you will also need to buy Mounting Profile.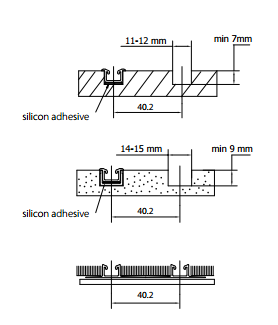 Top image - Installing recessed track:
Leave or make a groove of 11- 12 mm in width and minimum 7 mm in depth. Fix the track using silicon adhesive. Prior to fixing the track, apply an appropriate quantity of the adhesive along the bottom of the groove. Where two or more tracks are installed, provide for 40.2 mm spacing on centres (distance between track centre lines).

Middle image - Track recessed into ceramic flooring:
A recessed bottom track can be mounted in ceramic flooring. Leave a groove of 14-15 mm in width and at least 9 mm in depth, in which to install the mounting profile or embed it in mortar before it sets. Prior to door installation, fix the track using silicone adhesive.
Bottom image - Wide recessed track
Used when fitting under carpet - see separate listing.
Length: 5 m
For a quote, please contact us via email: info@slidingwardrobesunlimited.com...
...providing the length of Aluminium Recessed Single Bottom Track and Mounting Profile that you need and we will provide you with a quote. Alternativley, call us on 0208 123 8686.
Mounting Profile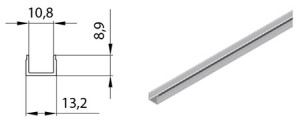 Above is an image of the Mounting Profile, which is used in conjunction with the recessed bottom track.
Length: 5 m
£0.00

Adding...