Positioner for Top Track - Grey
The plastic grey top positioner is self-adhesive. It is used in the top track inside walls and is positioned where the door closes or needs to be held.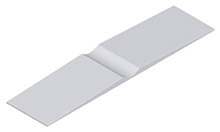 The top positioner holds the door in the closed position by one of the top wheels being 'held' in the curved/dip area. It can be used to hold the door in any position, such as the centre of the track set and if you need to push the door pass it. this can be done easily. If it is being used to hold the doors closed when they are near a wall, one side of the plastic component may need to be cut back to ensure it holds the door neatly against the wall.
£1.50

Adding...