Wide Recessed Single Bottom Track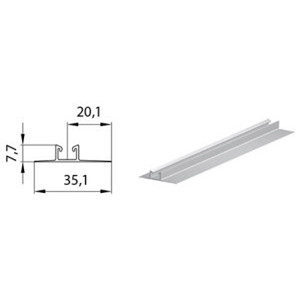 A track made from anodized aluminium alloy, often used under carpet when installing sliding wardrobe doors.
Length: 5m
For a quote, please contact us via email: info@slidingwardrobesunlimited.com...
...providing the length of Aluminium Recessed Single Bottom Track and Mounting Profile that you need and we will provide you with a quote. Alternativley, call us on 0208 123 8686.

Fix the track using screws, double-sided self-adhesive tape or silicon adhesive. Where two tracks are installed, correct spacing of tracks will be obtained by laying them next to each other so that the wider sides of their bases butt together.
£0.00

Adding...