Positioner for Aluminium Bottom Track
This positioner/stopper is for use with an aluminium bottom track. Supplied in a pack of 10, this item comes complete with a 1.5 mm Allen key.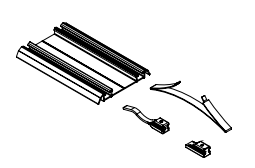 If the track is to be fitted with bottom positioners and stoppers, slip them into the respective tracks before fixing. Fully insert the sliding wardrobe door in the top track, taking care not to damage the bottom rollers, then align the bottom end of the sliding wardrobe door with the bottom track and slowly lower the door, letting the rollers snap into the tracks. For more information, please view our 'How to Install' page.
£12.50

Adding...