Delivery Information
COVID UPDATE: as of 23rd March 2020, due to the on-going pandemic and continued Government restrictions delvieries to room of choice have been suspended. Deliveries will be to the doorstep, or building door for apartments.
Our delivery company provide a room of choice delivery, as long as its safe to do so.  It will be the delivery drivers decision as to whether it is safe or not.  The drivers priority is to avoid damage to the home, home contents, the product or him/herself, and their decision is final.  Examples of unsafe environments might be winding stairs or passageways that require twisting of the product. Please try to make sure all passage ways are clear.
As of January 2018 they also provide an unpacking and inspection service.  The delivery driver will help you unpack and inspect the product to check for damage.  Packaging will be left with the product, so that you can still protect it before installation.  If you choose to decline this service for any reason, then any subsequent damage found after the drivers have left will be your responsibility, not theirs.
(COVID19: the above services are temporarily disabled due to Government restrictions – deliveries are to the door step, or building door if an apartment)
If you do find there are errors or damaged product, please don't wait for the delivery company to report this back to us.  Please call us directly on 0208 123 3686, as this will start the correction process quicker.  Any product damaged or missing in transit is obviously replaced free of charge.
Cancellation or postponement of agreed delivery
Your product will be loaded in delivery sequence 48 hours before your agreed delivery day. Any cancellation or postponement during this time will result in your product travelling the country and then returning back to base, to await redelivery. This will result in an additional delivery charge of £60, charged by our delivery company.
Standard Delivery
The graphic below shows our standard delivery area. We deliver to most mainland UK addresses on a weekly basis, with the exception of the following post code regions:
AB, DD, DG, EH, FK, G, IV, KA, KW, KY, ML, PA, PH, TD
Please contact us before ordering for any of these postcodes as there are likely to be extended lead times are priced upon application.
Our standard delivery rate is £60 per order and typically the turnaround from the ordering being placed to delivery is up to 28 days.
CURRENTLY SUSPENDED: Contact us for quicker lead times as some postcodes fall within an EXPRESS DELIVERY ZONE, we may be able to deliver within 7-10 working days (subject to postcode, express delivery charges and capacity).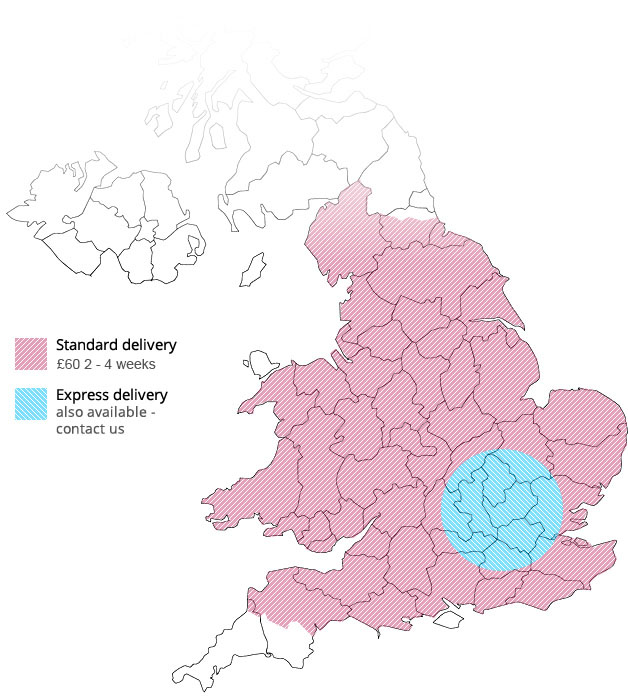 Express Delivery
For delivery addresses within the M25, and certain other postcodes, please contact us for details of our express delivery option.